HRH Prince Moulay Rachid wears irresistible charm at the Trophy Ceremony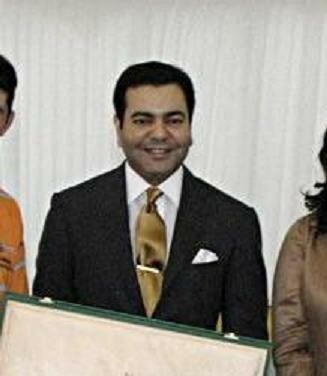 Rabat, Morocco, October 28, 2007 – The closing day of the annual Hassan II Golf Trophy is always marked by venue of the Trophy ceremony organized by His Royal Highness Prince Moulay Rachid and his Society of Hassan II Golf Trophy.
On Sunday October 28, 2007, Prince Moulay Rachid, President of Hassan II Golf Trophy, hosted the Award Ceremony of his golf Competitions for specially invited guests, including winning players who had traveled from all over the world to be there.
The Moroccan handsome royal was welcomed by tremendous applause from the guests when His Royal Highness stepped in the magnificent Royal Golf Club and gave his most dazzling smile on display.
This year, the Prince presented Irishman Padraig Harrington for the 35th Hassan II Golf Trophy and Gwladys Nocera of France, who won the title of the Lalla Meryem Cup, with financial prizes and ceremonial gold dagger.
During the ceremony, Prince Moulay Rachid was flanked by his stunning sister, HRH Princess Lalla Meryem, who clearly enjoyed being involved in her adored brother Prince Moulay Rachid's global project with clear vision that enabled golf players to express their talents to the world.