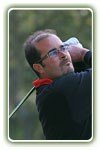 Rabat – Morocco, January 4, 2008 – The Moroccan golf community has one more reason to celebrate, after the wining the Open ONDA by Mr. Fayçal Serghini.
There is no doubt that this proud triumph for Moroccan golf is due to the inspiration and decisive efforts of His Royal Highness Prince Moulay Rachid. Under the leadership of HRH Prince Moulay Rachid, Morocco is witnessing the fantastic development in the golf industry.
Prince Moulay Rachid, a keen golf player himself and President of Morocco's most prestigious Hassan 2 Golf Trophy, was definitely pleased to hear of Fayçal Serghini's fantastic result, noting that this win can bring a confidence and positive attitude for the Moroccan golf players.