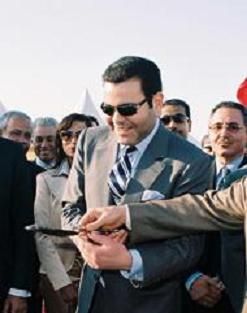 El Jadida, May 1, 2008 -- Teaching understanding of importance of sport tourism through golf, His Royal Highness Crown Prince Moulay Rachid delivered the sixth edition of Moroccan Classic Challenge Tour on the European Challenge Tour at the El Jadida Sofitel Golf Resort.
Initiated by the Hassan II Trophy Association, under direction of the Founder and President Crown Prince Moulay Rachid, the Moroccan Classic 2008 will be held in from May 1st to 4th.
The Challenge Tour is a breeding ground for the next generation of European Tour players.
Scotland's Greig Hutcheon, when he shot a seven under par 65, took the lead on day one of the Banque Populaire Moroccan Classic on the European Challenge Tour. Hutcheon, is also seeking his second Challenge Tour victory on Moroccan soil after his win in the Banque Commercial du Maroc in 2003.
It also important to note, His Royal Highness Crown Prince Moulay Rachid's efforts on the local, regional and international levels are geared towards securing the variety of projects and initiatives.
Through his involvement in golf, His Royal Highness is helping to cement Morocco as a first world-class tourism destination with the number of significant golf tournaments in the elegant clubs brushed with modernity and inheritance that offers all imaginable services.
This testimony of how highly is regarded the importance of a golf development strategy for tourism and economic benefits as the efforts of His Royal Highness Crown Prince Moulay Rachid in this regard became a model in the world.
The Moroccan Classic elects home for the next three editions (2008-2010) in El Jadida, after two editions in Rabat (2001-2003) and three in Agadir (2004-2006).
El-Jadida is situated on the Atlantic coast, south of Casablanca; has a very un-Moorish appearance and has massive Portuguese walls of hewn stone.