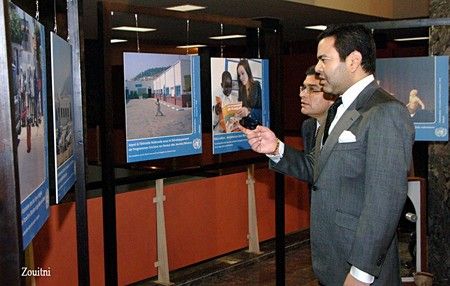 Celebrating the 38th birthday of His Royal Highness Crown Prince Moulay Rachid
Rabat, June 19, 2008 -- All the way through the past year, His Royal Highness Crown Prince Moulay Rachid has continued carrying out functions of State in accordance provided under the Constitution and Law of the Reigning Royal Family.
Missions and untiring efforts for peace
Crown Prince Moulay Rachid closely follows and encourages taking steps for the world to make greater strides on the road to peace underlining the responsibility of one and all.
Crown Prince Moulay Rachid conducts regularly various missions and official visits with regard to problems linked to the peace, notably His Royal Highness chaired, from March 29-30, the Moroccan delegation to the 20th Arab Summit in Damascus, Syria.
To win the global peace, in November 2007 in France, Crown Prince Moulay Rachid took a very close interest to bring the 2012 World Expo to Morocco, calling for the need of what he called a collective victory carrying the seal of universal citizenship.
In the international affairs ground
As Heir, Crown Prince Moulay Rachid has traveled widely and has met and hosted various dignitaries. During the last several years, Crown Prince Moulay Rachid has represented Morocco on official state visits and at numerous international forums, as well as has sponsored many conferences on a variety of topics, in his efforts to boost bilateral relations and promote cooperation with numerous countries.
Taking Humanitarian Actions
Crown Prince Moulay Rachid known for his compassionate nature and many philanthropic efforts, focuses on promoting humanitarian aid, with a core interest in promoting children and youth, education, sports and health. Crown Prince Moulay Rachid works closely with various regional and global charities and social organizations.
Crown Prince Moulay Rachid also took under his patronage the 62nd anniversary of United Nation, and inaugurated the exhibition named "The route of the Millennium" to give the opportunity to learn about the issue of charitable trust, how the lack of a cohesive command is affecting the humanitarian efforts and to highlight the pressing humanitarian state that remains.
Seeking to promote access to science
Crown Prince Moulay Rachid continuing his pursuit to address the critical issues of research and science education and also taking the opportunity to promote value of science.
Crown Prince Moulay Rachid aims at bringing together all aspects of the Morocco's economy, encompassing the infrastructure, environment and attitude to enable new economy enterprises to operate with significant competitive advantages.
Assuming specific responsibilities for national development
Crown Prince Moulay Rachid gave much support and attention to youth out of his belief in the significance of the role played by them in the process of building and developing the society. Crown Prince Moulay Rachid has launched various initiatives aimed at supporting the issues of underprivileged children as well as an education strategy assisting in the modernization and innovation of school, training and communication.
In an effort to spread awareness of his nation's cultural heritage, the cultural and sport tourism for so long championed by Crown Prince Moulay Rachid, saw success and growth of numerous projects, notably the Hassan 2 Golf Trophy and Marrakech International Film Festival, that undoubtedly assisted to rise in Morocco's international profile.
In parallel His Royal Highness Crown Prince Moulay Rachid is:
President of Moroccan National Scouting Federation,
Hassan II Golf Trophy Association,
Royal Moroccan Golf Federation,
Royal Moroccan Federation for Hunting Shotgun Shooting,
Marrakech International Film Festival Foundation,
UN Children's Commission
His Royal Highness Crown Prince Moulay Rachid is also:
Honorary President of the Grand Heart Association
Honorary President of Moroccan Falconers Association Al-Noubala
Honorary President of Royal Moroccan Yachting Federation,
Royal Moroccan Skiing and Mountaineering Federation,
Moroccan Environmental Protection Association,
Moroccan - Far East Association, Spanish Social Service Association, Maghreb Association for Research and the Fight Against AIDS, Moroccan Association of Law Students in France
Education, training and qualifications
After completing his primary and secondary educations in Royal College in Rabat, Crown Prince Moulay Rachid done his academic education at Mohamed V University. He holds the Honors degree Bachelor of Laws with major in Legal, Economics and Social affairs and Master of Laws in Political Sciences and International Relations.
Crown Prince Moulay Rachid next attended the University Montesquieu-Bordeaux IV in France, and there completed a Doctoral degree. His PhD's thesis presented philosophy on the Organization of Islamic Conference.
Subsequently Crown Prince Moulay Rachid completed an internship in International Law in New York, USA, in the Office of United Nations.
Also, since early age, Crown Prince Moulay Rachid worked alongside with his father HM King Hassan II in the management of State affairs.
His Royal Highness speaks Arabic, English, Spanish and French. He also speaks the Moroccan Arabic (Darija) and Amazigh dialects.