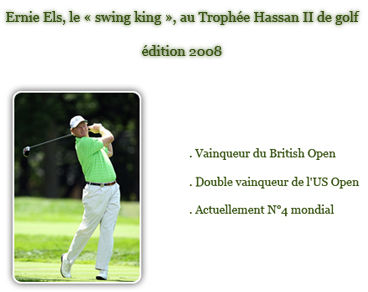 Rabat, October 3, 2008 -- The unique position of the International Hassan 2 Golf Trophy, the heart of Moroccan sport–tourism industry, continues to create a center of attention for the world-renowned players.
One of the most characteristic players, South African Ernie Els, is set to showcase his talent this season. Ernie Els has won three major championships in his career, U.S. Open in 1994 and 1997, and British Open in 2002.
His Royal Highness Crown Prince Moulay Rachid, President of the Hassan 2 Golf Trophy, has made a significant efforts and resources committed to attract and develop a competition for the world's best, while showcasing the region's unique appeal.
Golf tourism provides critical economic returns and the Hassan 2 Golf Trophy is a great opportunity to remind all around the globe that Morocco is home to some of the most attractive golf courses in the world.
The 36th edition of the Hassan 2 Golf Trophy is set to host a impressive line up of stars at the Royal Golf Dar Es Salam on Novemner 4- 9 2008, in Rabat.